| | |
| --- | --- |
| Millennial Home Buying Preferences | |
Special Studies August 1, 2019
By Benjamin Coomer
NAHB Economics and Housing Policy Group
Report available to the public as a courtesy of HousingEconomics.com
Introduction
This article analyzes four NAHB home buyer preference surveys from 2007, 2012, 2015, and 2018 to examine the housing preferences of the generation known as Millennials. This generation of individuals born between 1980 and 1996, simply put, is growing up. Millennials currently range in age from 23 to 39 years old but have similar preferences in many ways to the older generations – Generation X, Baby Boomers, and Seniors. Despite these similarities, the majority of this article focuses on the ways in which Millennials set themselves apart when it comes to home buying preferences. It concludes that, despite a few cases where Millennials' preferences should adjust over time, there are ultimately a good number of interesting areas where Millennials' current differences from older generations reflect unique, lasting preferences for Millennials. A few of the most notable findings follow:
Keeping in mind that the majority still prefers to live in the suburbs, Millennials increasingly desire to live in the central city.
Millennials increasingly prefer new homes built for sale over custom-built homes.
Millennials increasingly desire a set of amenities – trash compactors, wet bars, built-in kitchen seating, and exercise rooms.
While Millennials currently favor whirlpool tubs and central islands with a range more than the older generations, comparisons to similarly-aged groups in past surveys suggests that the preference for these amenities will decline in time.
When considering the environment in the purchase of a home, Millennials surprisingly have preferences that are very consistent with the older generations and that reflect a falling desirability of environmentally-friendly homes.
General Housing Preferences
Among general housing preferences, there's a noticeable upward trend in Figure 1 in the percentage of Millennials who desire a new home built for sale offered by a builder, up from 28% in 2007 to 41% in 2018. This increase seems to be at the cost of the preference for a home custom-built on the eventual homeowner's own lot, which falls from 37% to 18% over the same period. Preference for an already existing home hovers around 40% across this time.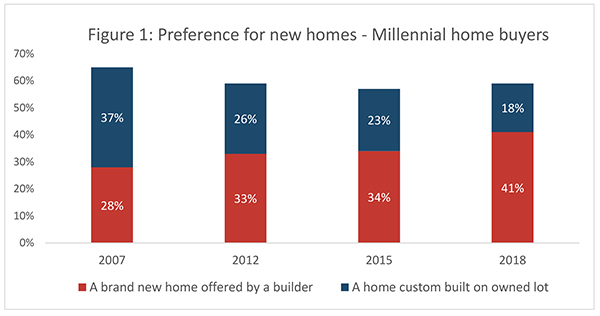 How does this compare to the older generations over time? In general, older generations show a similar decline in custom preference while the preference for existing homes shows no underlying trend. However, the other generations hover around 30% who prefer a new home built for sale and offered by a builder, so it's telling that Millennials have a clear upward trend in this preference over time and finish significantly higher than other generations in 2018 (Figure 2).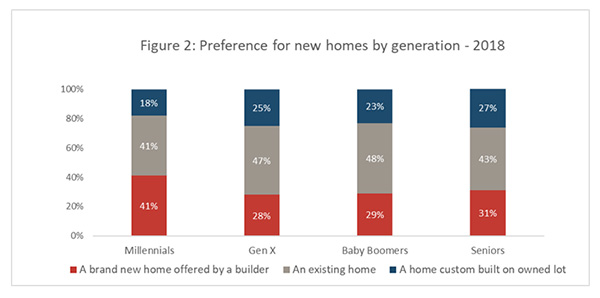 While this indicates shifting preferences for Millennials, it is still important to realize that the market for housing is heavily tilted towards existing homes, which is almost five times bigger than the market for new homes, according to data from the U.S. Census Bureau and the National Association of Realtors.
Regarding the general location of the home (Figure 3), there is a clear pattern in the 2018 survey in that older generations show less desire to live in a central city, more desire to live in the outlying suburbs, and, to some extent, the close in suburbs.

In Figure 4, which shows Millennial preferences over time, there is a clear drop in the desire to live in the suburbs and a sharp increase in desire to live in the central city. This contrasts greatly with the older generations, who have generally demonstrated an increasing preference for the suburbs over time. Although Millennials' location preferences are generally similar to older generations in the earlier surveys, their increased preference for a central city location in the more recent surveys appears unique. It's important to keep in mind that, despite the great increase in Millennials' preference for living in the central city, this option is the least popular of the four. The combined total preference for living in the suburbs (outlying or close in) still outweighs the other locations for Millennials, although it is not as pronounced as the older generations.

The jump from 12% who prefer to live in the central city to 23% for Millennials in Figure 4 is not only large, but (as shown in the Appendix available under "Additional Resources") statistically significant.
Another trend is evident in what Millennials would accept to make their homes more affordable. In Figure 5, Millennials' willingness to accept a smaller house is clearly increasing, as is their willingness to accept a smaller lot to some extent. This doesn't set this generation apart, however, as this largely conforms to the trends of older generations in Figure 6, with only Seniors failing to show increased willingness to accept a smaller house between 2007 and 2018. Small samples in this oldest generation can cause issues interpreting the results, however.

Lastly, Millennials have shown a stark increase over the years, from 20% to 40%, in their preference for two full master suites and one standard bedroom versus one master and three standards (Figure 7). This trend is among the more drastic jumps during the survey period, but it is also remarkably similar to the rest of the generations – especially with Gen Xers. Even though this change in preferences is not unique to Millennials, it's worth spotlighting when the preference for two full master suites and one standard bedroom more than doubles in the youngest two adult generations from 2007-2018.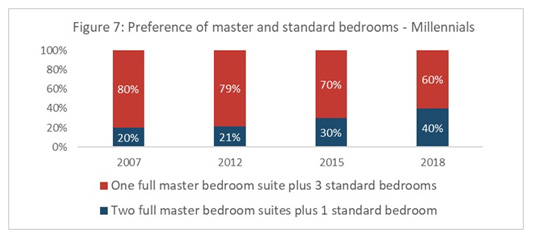 Most and Least Wanted Amenities
The 2018 survey asked recent and prospective buyers to rate 175 different features on the same four-tier scale: "Do not want", "Indifferent", "Desirable", or "Essential/Must Have." The most wanted features for Millennials in 2018, measured by total percentage of respondents marking an amenity as "Desirable" or "Essential," appear in Figure 8. A few interesting points follow:
Four-fifths of Millennials see a patio as desirable or essential in a home. It may be a bit surprising that something so non-essential to daily life is the third most wanted feature; however, even higher numbers appear for the older generations, so it is apparent that this is not an outlier.
Energy Star rated windows have a combined desirability of 76% for Millennials, but this number pales in comparison to older generations in 2018 who prefer this feature upwards of 90% of the time. These windows are only the 15th most wanted feature for Millennials; they appear as the second most popular item for each of the older generations. This is not a new development, however, as these numbers stay pretty constant for all generations over the years. A similar situation unfolds regarding Energy Star rated appliances and an Energy Star rating for the whole home.
All but two (garage storage and double sink) of Millennials' top ten most wanted features appear in the top ten for Generation X. Baby Boomers are missing four of Millennials' top ten: walk-in pantry, front porch, table space for eating, and double sink. Seniors are missing four as well from their top ten: hardwood front exterior, walk-in pantry, front porch, and table space for eating.
While a laundry room is the most preferred amenity for Millennials, its desirability has been declining slightly over the years of the surveys: from 91% to 90%, to 88%, and finally to 86% in 2018. This steady decline is not quite matched by the older generations who demonstrate volatility without a clear trend.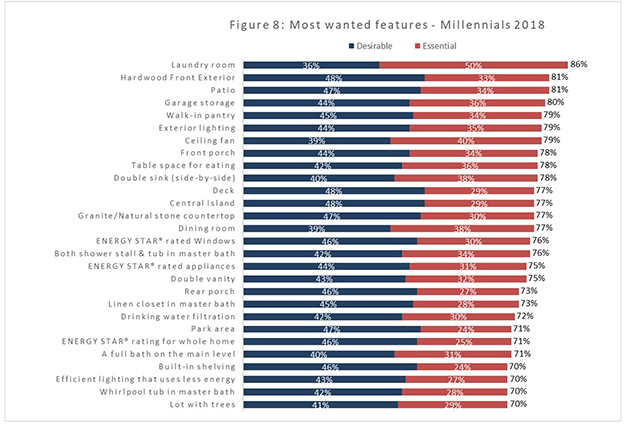 Figure 9 lists the least wanted features of Millennials in 2018, measured as the amenities with the highest share of buyers saying they "Do not want" these features. A few interesting points:
An elevator is far and away the least desired feature by Millennials. One could theorize that due to their youth, it is unlikely that Millennials would desire elevators. Surprisingly, though, elevators are also the least desired feature of the older generations, and it's even higher, at approximately 70% for these individuals.
Millennials say they "Do not want" bathroom aids (such as grab bars) much more often than older generations.
Among the features that older generations dislike much more than Millennials are bikeshare/carshare services, a mixed-use community, a two-story family room, a daycare center, a roof partially or completely covered by plants, and a wine cellar.
Every feature listed in the graph, except for bathroom aids, is a feature that each of the older generations desires even less than Millennials.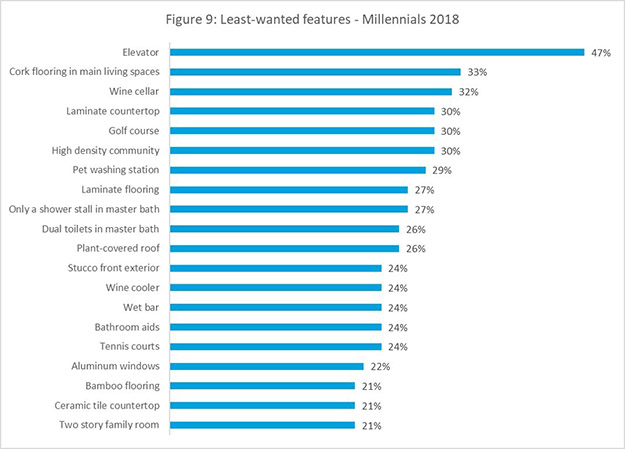 Before looking at more specific amenity preferences, it is worthwhile to follow the trend in average amenity ratings over time. In Figure 10, the most noticeable trend is the steady decline in indifference versus a steady increase in the tendency to rate certain amenities as essential. This suggests that Millennials are developing stronger preferences in home buying over time.

Preferences for Specific Amenities
Now, preferences for specific amenities will be examined by combining the percentage of respondents responding to each feature as "Desirable" or "Essential/must have" into one number to measure how wanted a feature is overall.
All three of the bathroom features below showcase a much higher degree of desirability among Millennials than among the older generations. The share of home buyers who want whirlpool tubs declines as the older generations age, but stays relatively constant for Millennials (Figure 11.1); the share who want a dressing area increases for Millennials while falling or staying constant for other generations (Figure 11.2); and the share who want his and her baths increases dramatically for Millennials, compared to showing no real trend among the other generations (Figure 11.3).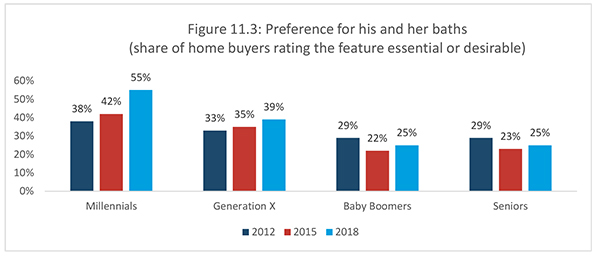 Millennials generally show an upward preference trend for the kitchen features in Figures 12.1-12.4, although the trend for a central island with range is evident only after 2007. All four generations showed an elevated preference for built-in kitchen seating. Other than that, the older generations show no consistent trend for these kitchen features, although all four generations show a substantial drop in preferences for a central island with a range between 2007 and 2012. The increasing trend for Millennials is especially striking for trash compactors in Figure 12.2 and built-in kitchen seating in Figure 12.4.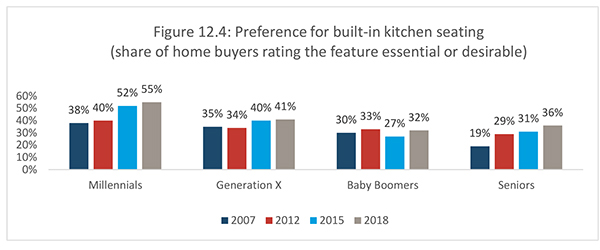 Lastly, for the specialty rooms in Figures 13.1-13.3, Millennials tend to show a higher preference than any other generation and generally an upward trend over the years. As a result, the gap between Millennials and the older generations in 2018 is quite substantial.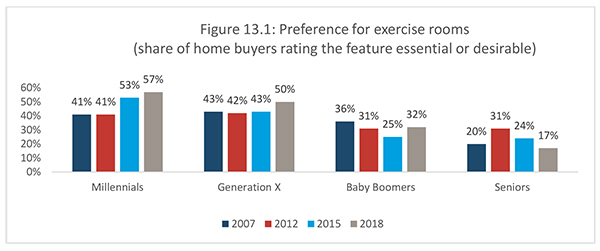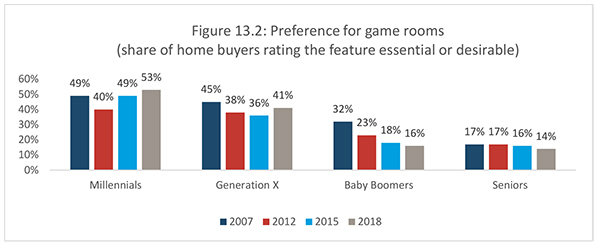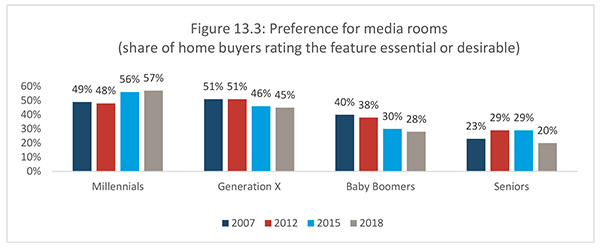 Environmental Attitudes
Some readers may think that Millennials are particularly concerned about the environment because they grew up in a time where climate change has risen to the front of the public consciousness. At least when it comes to home buying, this theory doesn't seem to hold true. For Millennials in Figure 14, the only significant changes over time when asked about environmental concern in homebuilding is a steady decline in the desire for an environmentally friendly home without wanting to pay more for one. This has been swapped for an increase in concern for the environment without considering it at all in the purchase of a home. This trend has been markedly visible in the older generations as well throughout the years. Maybe Millennials are more environmentally-conscious, but they don't seem to reflect this in their home buying preferences any more so than other generations.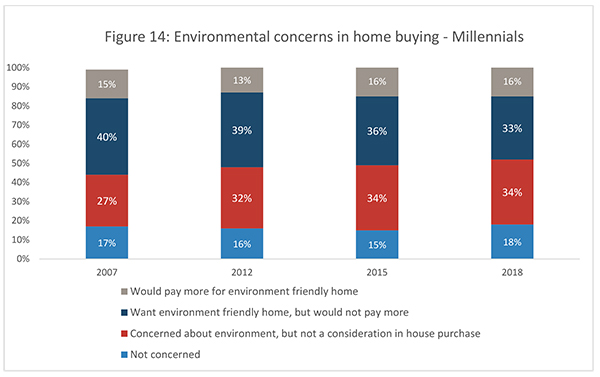 Additionally, the homogeneity of answers across the generations is pretty remarkable. The results for 2018 appear in Figure 15 below as an illustration of this consistency.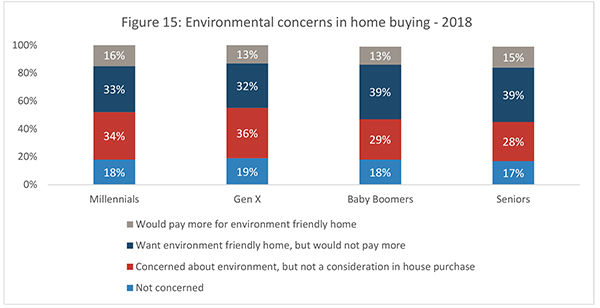 Figure 16 shows how much Millennials would pay up front to reduce their utility costs by $1,000 each year. The median of $5,000 doesn't change except in 2015, and there is no clear trend in the average, which tends to be pulled upward by a few unusual cases at the top end—people who are willing to pay many tens of thousands of dollars for the utility bill savings. When compared to the averages for all older generations, however, the average amount Millennials are willing to pay is higher in all survey years except 2007. The median remains constant at $5,000 across all generations and all four surveys shown in the figure, except for a small increase for Millennials and Generation X in 2015.

Effect of Income
Some of the differences in preferences discussed above could be attributable to differences in income. Millennials who buy homes may tend to have incomes that differ from older home buyers, and the incomes for buyers in a particular generation may change over time. It's important to remember that only individuals who are recent or prospective home buyers (bought a home in the past three years or are considering buying one in the next three) are included in the sample for the surveys. The incomes of respondents to the survey, therefore, do not reflect the incomes for each generation in its entirety.
As Figure 17 shows, median income for Millennial and Generation X home buyers dropped during the Great Recession before recovering during the 2010s. The median income for home buyers in the Boomer generation stayed relatively constant, and increased steadily for buyers in the Senior generation, after starting from a much lower point in 2007.

Adjusting median income for inflation using the Consumer Price Index and the year 2018 as a base tells a more worrisome story in Figure 18. Income of Millennial home buyers has barely recovered since the Great recession, and income of Generation X buyers still has not recovered. Median income for buyers in the Boomer generation, adjusted for inflation, has steadily declined over time, while for Senior home buyers, a steady increase is still apparent.

The state of the U.S. housing market during this time period provides more context for this post-recession income problem. After the crash in housing prices in 2007, it wasn't until 2012 that prices stabilized according to an article on the Home Price Index by NAHB. For the rest of the decade, housing prices appreciated, surpassing pre-recession heights in 2016. The Federal Reserve's Senior Loan Officers Survey shows consistently tightening standards for obtaining mortgage credit after the recession, especially for subprime and nontraditional loans. The rise in housing prices along with tightened lending standards on mortgages during this past decade could make the prospect of homeownership more difficult, especially considering the lukewarm recovery of home buyers' incomes after the Great Recession.
Because factors like income may affect home buyer preferences, a statistical analysis of the 2018 survey data was performed to see if age of the home buyer made a difference in preferences after controlling for income (as well as geography, race and ethnicity and household composition). Where differences across generations are discussed above, age remained a statistically significant explanation of the differences after controlling for income and these other factors, except for the home location preference (rural, suburban, urban). The complete set of statistical results is available on request from NAHB's Economics and Housing Policy Group.
Millennials Compared to Similarly-Aged Home Buyers in Previous Surveys
Having shown several ways in which Millennials differ from older home buyers in home buying trends, we now examine how different 2018 Millennials are from home buyers who were as young as they are in previous surveys. In the 2018 survey, Millennials were between the ages of 22 and 38. Due to changes in the survey, there is no way to look at this exact age range in years past, but we can get close. In 2007, Generation X was between the ages of 28 and 42. Similarly, in 2003 we can look at the responses of home buyers under the age of 35. None of these groups includes Millennials, so this comparison will provide an illustration of how Millennials currently compare to a different generation at the same general age Millennials are now. There will be no groups included after 2007 because Millennials begin to appear in the 22 to 38 age range in large amounts then. For ease of presentation, these groups will be referred to as Similarly-Aged Respondents in Previous Surveys (or SARPS). The SARPS will be compared to the Millennial responses from the 2018 survey:
It has been pointed out that, compared to older home buyers, Millennials in 2018 were more likely to prefer a new home offered by a builder and less likely to prefer a new home custom-built on their own lot. In Figure 19, Millennial preference for a new home offered by a builder in 2018 is also higher compared to SARPS, and a custom-built home is much lower. When considered with the clear trends in earlier analysis, this suggest a truly unique preference for Millennials.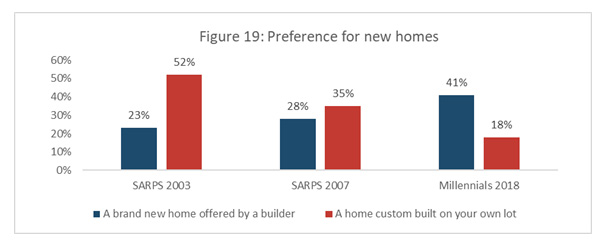 In Figure 20, 2018 Millennials not only show a much stronger preference to live in the central city than older home buyers in 2018, but also than the SARPS. Additionally, Millennials show a weaker preference for living in the outlying suburbs compared to SARPS while preferences for living in rural areas and close in suburbs are fairly similar. This suggests, along with the earlier analysis, that Millennials have unique and lasting preference for home location.

When asked what is acceptable to a home buyer to make a home more affordable, Millennials in 2018 were drastically higher in their acceptance of a smaller house than SARPS in Figure 21. On the other hand, 2018 Millennials and SARPS were closer together in their acceptance of a smaller lot to make a home more affordable, although the preference for 2018 Millennials is still higher. Since the acceptance of smaller homes and lots to make a home more affordable has grown for the older generations too over time, this suggests this trend is not unique to Millennials but rather applies to all generations of home buyers.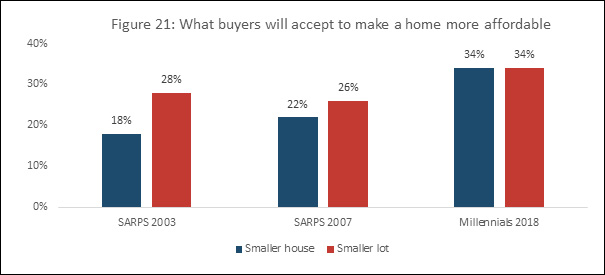 In Figure 22, 2018 Millennial home buyers chose about a third of the time that they want an environmentally-friendly home but would not pay more. This is much lower than the SARPS which responded this way about 45% of the time. In the earlier analysis, this preference fell over time for all generations without there being any increase in willingness to pay more for an environmentally-friendly home, suggesting that the environment is being considered less when buying a home across all generations.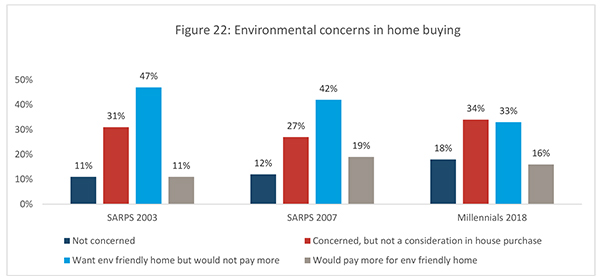 For some amenities, 2018 Millennials showed a higher preference (greater share of home buyers rating the amenity essential or desirable). This was true for dressing/make-up areas, wood-burning fireplaces, and built-in kitchen seating (Figure 23.1); as well as for window seats, trash compactors, exercise rooms, and media rooms (Figure 23.2). In the earlier analysis, Millennials rated each of these amenities considerably higher than older generations, and their ratings trended upwards over time, while the older generations showed no clear trend (except for built-in kitchen seating). Combined with Figures 23.1 and 23.2, this suggests that Millennials may be unique and preferences for these items are not likely to conform to those of the older generations over time.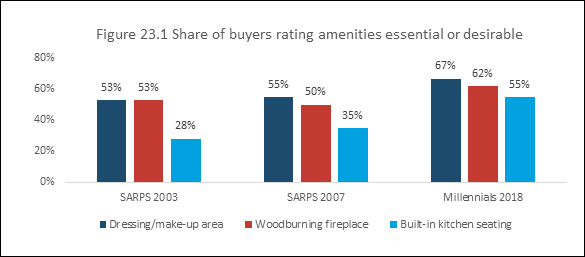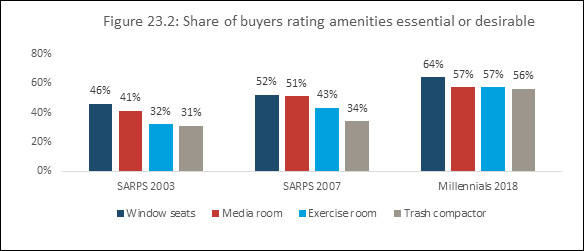 Conversely, 2018 Millennials and SARPS show generally similar preferences for whirlpool tubs and central islands with a range in Figure 24. Millennials showed a considerably higher preference than the older generations for these two amenities in the earlier analysis. This suggests that Millennials may not be unique and their preferences for these amenities are more likely to decline as they age.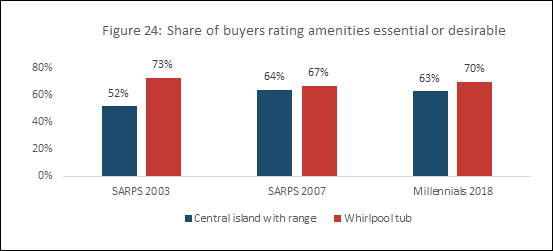 Conclusion
Over time, home buyers in the Millennial generations have shown a growing preference for
A central city location
New homes built for sale in tracts, rather than custom-built one at a time on individual lots
Affordability even if it means accepting a smaller house or a smaller lot
Rooms intended for particular specialty purposes—such as exercise, gaming and media rooms
Built-in kitchen seating
Other kitchen features like central islands with ranges, trash compactors, and window seats
Two full master bedroom suites
Particular bathroom features like his & her baths and dressing/make-up areas
An environmentally friendly home—even though they are unwilling to pay more for it
In addition, Millennials' preference for a whirlpool tub has remained relatively constant, while declining over time for older generations. For features 3, 5, 7, and 9, Millennials' tendencies are part of a consistent trend that seems to prevail across home buyers of other generations. For the other features, Millennials' preferences are both different from older buyers in 2018 and trending in a way that is also different.
Comparisons of Millennials in 2018 to home buyers who were of a similar age over a decade ago suggests that preferences for central islands with ranges and whirlpool baths are a function more of age than of the generation you were born into. Millennials' preferences for these features are likely to converge as they age to the preferences currently expressed by older home buyers.
On the other hand, there are a number of features for which Millennials' preferences appear unique and not likely to converge this way. Included in this category are Millennials' stronger preferences for new homes built in subdivision tracts (rather than custom-built one at a time), central city locations (despite a majority still preferring suburban locations), dressing/make-up areas in the master bedroom, kitchens with window seats and built-in seating and trash compactors, and specialty purpose rooms designed for games or media or exercise.[1]
[1]
Preferences for his and her bathrooms were not covered in the earlier surveys and therefore cannot be compared to the results from 2018.